Play Now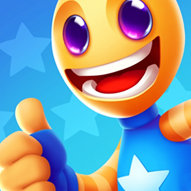 With Super Rocket Buddy, get ready for some explosively fun Super Buddy adventure! Lucky you, because you have a bunch of super buddies who are already willing to be launched to complete this thrilling adventure. But it is your job to make sure their devotion would be for nothing. You should throw your characters at the target spots so perfectly that you will miss any. So, take your seat now and prove your targeting skills!
No need to feel pressure, but all your buddies are relying on you! Your objective in this fun skill game is completing each level by throwing your character to the target spots. But be careful. The targets can move and fall from the platform. Calculate your trajectory correctly and complete challenging levels! To succeed in this mission, you should make a good strategy. You've got only 5 buddies for each level to launch. If you have multiple targets or the targets are protected by various obstacles, you may need more than one shot. Hold to aim the cannon and release to shot by using your mouse. Don't forget to collect the diamonds along the way so that you can buy new skins for your character. Try to destroy everything by using as few shots as possible. Good luck and have fun!
If you want to discover more Super Buddy adventures full of fun, then be sure to check Super Buddy Run by clicking here.
Developer
kiz10 developed this game.
Release Date
April 16, 2020
Features
30 different levels to complete
Various skins to unlock from the in-game shop
Colorful 2D graphics
Entertaining and addictive gameplay
Controls
You can play this game with your mouse.