Play Now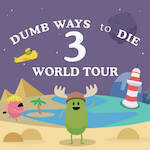 In Dumb Ways to Die 3: World Tour, Dumbville is in ruins, and its residents need your help to rebuild their once-thriving settlement. Featuring different challenging and fun mini-games, can you collect enough coins to repair all the buildings?
Doing dumb things will not only cause harm to yourself but to your surroundings too. Unfortunately, the residents of this place have a habit of making poor decisions, and you can see the result. Your objective in this game is to play various mini-games and collect coins to repair all the buildings in Dumbville. To start the game, click on the play button on the main menu. Next, click on one of the buildings, and click on the play button at the bottom of the screen. Pick one of the games from the top of the screen and then select a character. You can unlock the locked characters by repairing their homes. Each character has a different power. You earn coins as you play each game. There are no limits to how many times you can play a game, so pick the one you like and start collecting those coins. Try different characters on different games to see which one fits which game. Have fun playing!
Go and check the other title in this wildly popular series, Dumb Ways to Die 2. Enjoy the various mini-games in this game!
Developer
MarketJS developed Dumb Ways to Die 3: World Tour.
Release Date
May 14, 2019
Features
Colorful 2D graphics
Various characters with different stats to play as
Intuitive controls
Entertaining gameplay
Different mini-games to play
Controls
You can use your mouse and the arrow keys to play this game.