Play Now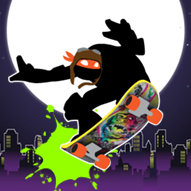 In TMNT Decked Out, finally, it is the Ninja Turtles' day off, but their enemies don't leave them in peace! The Turtles just need to have fun and relax, but there are some obstacles in their way. With its increasing difficulty, are you ready for an adventurous ride in New York City streets? The journey will be long, the turtles will pass various districts from China Town, Waterfront, Central Park, and Lower East Side. Then choose your turtle and help him to go back into the sewer!
Riding on a skateboard is a fun activity for the Ninja Turtles, but if there is anything more fun than that, it's to eat pizza! Ninja Turtles are in trouble, they want to ride a skateboard and eat pizza, but there are violative villains on their road. They come from both the front and back, don't let them hit your character! You have three pizza lives on the left top corner. To continue to ride, try not to lose your pizzas! You can play the game with arrow keys, also swipe the left side of the screen to move. To attack your target, stand behind them, and press the spacebar. While attacking, quickly tap buttons to do awesome tricks. Make the highest score and move on to the next level and help them to go back into the sewer.
If you want to try another game similar to this one, then be sure to check Dead Paradise 3 by clicking here.
Developer
TMNT Decked Out was developed by Nickelodeon.
Release Date
November 20, 2014
Features
Colorful 3D graphics
16 levels to complete
Entertaining gameplay
4 different characters to choose
Controls
You can play with your mouse or arrow keys and spacebar.