Play Now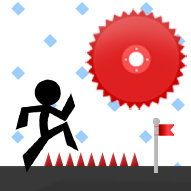 Vex 5 is here to test your reflexes and hand-eye coordination once again! Are you prepared to join this agile and fearless stickman through a dozen dangerous levels? If so, get ready to roll, jump, and climb! Only the fastest players can beat this game!
Spinning saw blades, endless pits, and other traps are waiting for the ones who dare to enter this realm! If you've played the previous titles in this popular series, then you're familiar with your goal in this game. All you try to do is to complete each level by navigating through them to the exit door. Start the game by either clicking on the play button on pressing the down or the S key on the main menu. You'll find yourself in the main area and can access different levels from there. The levels in this game are called acts, and each becomes more challenging than the previous one! You can use your mouse to look around the level to plan your moves and can use the arrow or the WASD keys to control your character. Stickman might look fragile, but he's very athletic. He can climb walls, run long distances, and jump from platforms. Avoid all the traps at all costs, as you'll die upon crashing into them. You can activate checkpoints and can spawn from there after dying. Good luck!
Go and test your skills in the previous title of this series, Vex 4! Click here to play now for free! Enjoy!
Developer
Agame developed Vex 5.
Features
Colorful 2D graphics
Multiple different levels to complete
Challenging level design
Intuitive controls
Different trophies to earn
Entertaining and fast-paced gameplay
Controls
Use your mouse to look around the level. Use the WASD or the arrow keys to move.