Play Now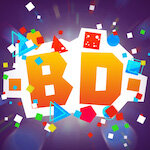 In Beat Dropper, wear your headphones and get ready to let yourself go with the rhythm. Featuring an amazing soundtrack and addictive gameplay, you'll be having a party while collecting points and completing levels in this fun game. If you believe you have a good sense of rhythm, then start the music now!
With different levels and beats, get ready for a fun time! Your objective in this game is to complete each level by destroying your enemies by moving with the beat. You control a shape in this game and you can play with your mouse. There are 6 different levels you can complete. Before entering a level, you can preview the music in it by clicking on the play button next to it. Once you're ready to head in, click on the level. In each level, you can see the beat bar at the top of the screen. Clicking on the screen with the beat gives you points. Make your shape move around and kill the enemies by clicking on the screen. If you move offbeat, you'll lose points. If you can't seem to catch the beat, you can always check the beat bar. Time your clicks according to it and you'll complete the level in no time. Your score is based on how onbeat your moves are and whether if you defeated all enemies or not. Good luck.
Looking for more ways to challenge yourself and have fun while doing so? Then visit our collection page of free and online skill games.
Developer
HUZ developed Beat Dropper.
Release Date
June 12, 2019
Features
Colorful 2D graphics
Intuitive controls
4 different difficulty settings
6 different levels to complete
Entertaining, challenging, and addictive gameplay
Controls
You can use your mouse to play this game.