Play Now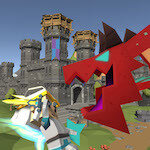 In Blocky Fantasy Battle, it's time to prove your skills in warfare, commander! Do you see the empty graves? The evil necromancer dragon has raised the hordes of ghosts, skeletons, sorceresses, and many other terrible creatures. And now, all that is left of the towns of old are ghosts and ashes. Can you make sure the remaining people live to see another sunrise?
Nothing remains of the former glory days of this kingdom and the king needs your help immediately. Your objective is to defend the kingdom at all costs and find out where the evil dragon resides to send them back to where they came from. That's the only way to purge this evil. Don't worry, though. You're not alone. The king will help you fight this battle and give you instructions on what to do. First, choose the melee warriors that will fight for you. In the beginning, you have a small selection of warriors but as the game progresses, you'll unlock necromancers, cyclops, and others. You need to travel across different lands to find the dragons. But beware! The closer you get to the dragons, the more powerful your enemies will be. To fight, place the soldiers in the highlighted area and click the button at the right bottom corner to charge. Click on your foes and press the left mouse button repeatedly to kill them. Use the shop to buy upgrades. Everything depends on you now, stranger!
If you trust your skills as a commander, play Battle For The Galaxy and lead your forces into battle. Enjoy!
Developer
Developed by CyberGoldfinch.
Release Date
June, 2018.
Features
30 levels to complete
Different monsters to destroy
Upgrades to buy
Many character optimization options
Controls
Use your mouse to play. Scroll wheel to zoom in and out.