Play Now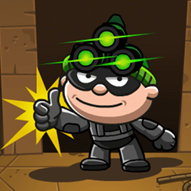 In Bob the Robber 3, join the world's most talented and resourceful thief Bob in his third adventure. Having a great set of skills tend to attract opportunities, and Bob can't say no to the job he just got. Help him through different levels on this mission, and prove his skill to his new employers by completing this heist successfully!
Breaking into a top-secret base is not a thing Bob usually does, but this would look good on his resume! Your objective in this game is to complete each level by collecting the required amount of documents and escape the place without getting caught. To control Bob, you can use the arrow keys. Use the left and the right arrow keys to move around the level. These documents were cleverly hidden! When you stand before a crate or other containers, an icon above Bob will appear. Press the up arrow key to collect whatever's in the boxes. You can pass through doors by using the up arrow key as well. Be careful! This place is crawling with guards and security cameras. Hide in the shadows and avoid getting caught, or you'll end up in prison. Can you complete the job without getting captured?
Rely on your talents and overcome challenging scenarios in the titles listed under our collection of free skill games. Have fun!
Developer
Bob The Robber 3 is developed by Meow Beast.
Release Date
July 2016
Features
Stealthy gameplay
Different puzzles to solve
10 different levels to complete
Different enemy types
Controls
Use arrow keys to play the game.