Play Now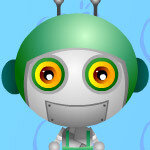 Bomb It starts the competition with a big boom, as there are few things a well-placed bomb can't get rid of. Join the fun in the first game of the popular series, and show your opponents that you're here for business. Walls made from soda cans and cookies won't have a chance to stand against you but do you also have what it takes to defeat your opponents?
A candy-filled world might look peaceful and cute at first glance, but the sounds of explosions will sure to change that first impression! Your objective in this colorful game is to be the last player alive by killing all your enemies. Click on the start button on the main menu to begin. This game features both a solo and a 2-player mode, so you can challenge a friend by sharing the same keyboard. Use the arrow keys to move around the level. When you find the perfect spot to blow up, press the SPACE BAR to drop a bomb. It'll detonate after a couple of seconds, so be sure to move to a safe distance, or you'll get caught in your own explosion and die. Destroying walls sometimes gives you different power-ups. Keep your eyes on your rivals, stay away from their bombs, and try to defeat all of them! Have fun playing!
Want to try out the other popular games in this amazing series? Then continue exploring with the second game, Bomb It 2! Click here to play now!
Release Date
April 2007
Features
3 different difficulty settings
Multiple power-ups to collect
2-player mode
Colorful 2D graphics
Intuitive controls
Controls
Use the arrow keys to move. Press the SPACE BAR to drop bombs.