Play Now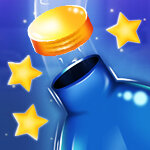 In Bottlecap Challenge, get ready to show off your amazing skills! Take part in the wildly popular challenge, and try your best to pass each level as best as you can. Place the bottle in from of you, take a deep breath, and strike to make the cap fly!
We won't promise that you'll become viral on the internet, but we're sure you'll have lots of fun. The main objective of this game is to collect as many stars as you can to unlock new worlds. You can play the game with your mouse, so click on the play button on the main menu to start. The game features 4 different worlds that you can play in, but you have to unlock them first. Start in the first world by clicking on it, and pick a level. Swipe your cursor on the screen while clicking and holding the left mouse button to make the cap fly. The faster you move the higher the cap will rise. Try to time your move correctly so you can collect all the stars. You need a certain amount of stars to unlock the other worlds, so try to collect them all. If you miss some on your first try, you can try again! Good luck!
Want to challenge yourself more? Then you should head over to our collection page of free skill games. Have fun playing!
Developer
Bofer Media (Twim Studio) developed Bottlecap Challenge.
Release Date
August 9, 2019
Features
Colorful 2D graphics
4 different worlds to play in
Intuitive controls
Entertaining and challenging gameplay
Controls
You can use your mouse to play this game.