Play Now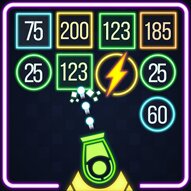 Brick Breaker Endless is here to keep you in front of the screen for hours of fun. Featuring neon graphics and fun gameplay, this puzzle game will make you want to play for hours on end. The question is, how far do you think you can go?
Are you looking for a game that will take away your stress and also is a lot of fun? Say no more! These neon bricks are here to accomplish exactly that. Just look up, aim well, and watch the vibrant colors spread through the screen. Your objective is pretty simple. You have to shoot the bricks before they reach the bottom of the screen and earn a high score. To play this game, all you need is your mouse. Click on the screen and hold it to aim and shoot the balls. The bricks have numbers on them which symbolizes how many times you need to shoot them. You can either aim directly at them or the walls and watch as the balls ricochet off the walls. You'll see power-ups appear between the bricks from time to time. Aim at them to earn even a better score. If the bricks reach the red line at the bottom of the screen, the game is over. Have fun playing!
If you are looking for another addictive game like this one, you can check out Two Ball 3D Dark by clicking here. Enjoy!
Developer
Dumadu Games Pvt. Ltd. developed Brick Breaker Endless.
Release Date
June 09, 2021
Features
Colorful neon graphics
Intuitive controls
Fun and addictive gameplay
An endless level
Controls
You can use your mouse to play this game.