Play Now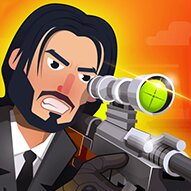 The city needs your help in Captain Sniper. You would not believe how wide the evil spreads: banks, amusement parks, pet shops… Can you solve the puzzles, find out who the bad guys are, and eliminate them before any incidents happen?
Terrorists, robbers, murderers; there is no way our sniper can deal with them all without your help. You are given tips about the criminals' physical attributes before every level. They are not always so clear, so you should watch out not to hurt innocent citizens with similar clothes or looks. If there are two or more people with the given features, you should inspect carefully and look for other clues. Be careful though; it is a matter of seconds before someone pulls a gun and things get ugly. Do your job right, get three stars on every level and watch the coins flow your way. At the end of each level, you can multiply your earned coins by ten by watching a short ad. You can purchase new guns and ammo with them, but coins are not the only way to get them; some are purchased by signing in daily or giving the lucky draw a spin. You get not only guns and ammo but also coins for every day you sign in, so make sure you at least stop by and collect them daily.
If you enjoy this game, you can find more shooting games by clicking here.
Developer
Mad Buffer developed Captain Sniper.
Release Date
November 11, 2021
Features
Colorful 2D graphics
Easy controls
Fun puzzles
Available to play on mobile devices
Controls
You can use your mouse to aim and shoot.