Play Now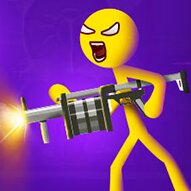 With Stick Duel Battle, get ready to jump into a unique competition in which you will be facing with your best friend! The circumstances are equal for both of you. You are both made of sticks in this duel. What you are going to do is to grab the weapons as fast as you can and shoot your BFF without mercy. You can also compete against the CPU to practice your skills before facing a real opponent. Ready, set, go!
Only weapons and fist have the right to speak here. You are a ragdoll with no words to say. Let the fight begin then! In this fun 2 Player action game, your objective is to defeat your opponent before they defeat you. At the top of the game screen, you can see your and your opponent's life bar and bullets. The guns and other kinds of weapons will be falling from the sky. Your priority is to catch them as fast as you can. The player who gets the first weapon has the privilege to hurt the other, for sure. If you are out of bullets, the weapons will become your powerful fists! Continue to kick your rival until you receive a gun again. Use the keyboard arrows or the WASD keys to move and the "L" or the "F" key to shoot. Good luck and have fun!
Be sure to check our collection of online and free action games to browse more fun titles like this game that you can play with friend!
Developer
RHM Interactive developed Stick Duel Battle.
Release Date
August 27, 2021
Features
2D colorful graphics
1P and 2P modes to play
Rounds to outpace the opponent
Fun and addictive gameplay
Controls
Arrow keys or WASD keys to move. The "L" or the "F" key to shoot.