Play Now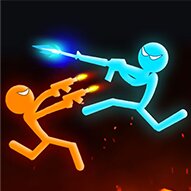 Two eternal foes are back, and they are after each other with a never-ending bloodlust in Stick Duel: Revenge. Guns will be raining, barrels will be exploding, and platforms will be sinking, with you on them, of course! So, call a friend or get ready to fight against the game because it's on!
You have two options: one and two-player matches. The one-player game sets you against a computer-controlled enemy, while in the two-player mode, you share the screen with another player and battle against each other. Caution: the floor is lava. You can choose to stay on the platform or mid-air, but don't forget that the dropped guns also sink with the platform, and they cannot be retrieved once they touch the lava. Grab a weapon, an automatic one if possible, and shoot at your enemy while dodging their attacks. Move up and down, use pieces of land and boxes as shields, and whatever happens, don't stand near explosive barrels. Check your ammo once in a while and drop the guns you want to get rid of so you can obtain a more useful one. Try both modes to double the fun!
If you like multiplayer stickman fights, you can check out Stick War: Infinity Duel for different arenas and weapons!
Developer
RHM Interactive developed Stick Duel: Revenge.
Release Date
March 23, 2022
Features
Colorful 2D graphics
Easy controls
Fun and quick deathmatches
1P and 2P options
Controls
Player 1 can use the arrow keys to move, "L" to shoot, and "O" to throw weapons while Player 2 can use "W, A, S, D" to move, "F" to shoot, and "R" to throw weapon.