Play Now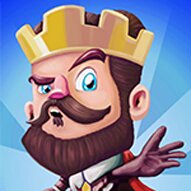 Be ready to turn your castles into enormous fortresses with Castle Defense! You are the ruler of this magical kingdom, and it is your responsibility to defeat the enemies. Use your abilities to send out the greatest soldiers and defend your castle at any cost. The enemy kingdom's army of goblins, evil bats, and spiders will be waiting for you. It is difficult to defend an empire while employing methods to bring it down. Ready? Then the battle begins!
Have you ever imagined living in a fairytale? If your answer is yes, you are on a lucky day! Because you are about to live one of them! Your goal in this tower defense game is to defend the castle by placing warriors in strategic locations. The soldiers, such as the warrior, sorcerer, and household, give a different type of defense. The troops are more affected by the warrior and the wooden house. On magical creatures such as goblins, bats, and spiders, the sorcerer and the stone house have more power. There are four maps totaling more than 40 levels, each with a different theme: forest, desert, ice, and fantasy realm! You'll be up against 12 distinct enemies who are all out to destroy you. As you go through this wonderful realm, you will be able to climb the stairwells of success. Commander, best of luck in your battle!
Do you want to play more games like this one? If so, take the different challenges in our collection of free and online strategy games.
Developer
Emoji Games GmbH developed Castle Defense.
Release Date
September 6, 2021
Features
3D colorful graphics with beautiful landscapes and animations
5 types of magical skills
More than 12 types of enemies
40+ map levels with four different themes
Controls
Use the mouse or the touch controls to play this game.