Play Now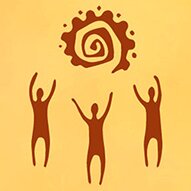 Playing God has always been frowned upon until God Simulator came and showed how fun controlling existence gets! This hilarious strategy game is both complex and addictive. You can now choose the system and religion you will approach your people with, spread your ideas and doctrines among them, and control their minds with your love or fear; it's all up to you!
Before jumping into the real action, you choose your belief system among many others. They all have their special combos that unlock over time. Inspect them and choose one system, and the difficulty. The difficulty page also shows you the facts that will shape your gameplay. Name your religion and start ruling! Right after entering the game, you will be told that your followers will first enlighten, and then they will evolve and become fanatics. You win when everyone on the planet is a fanatic. Start from a country and collect every bubble you see to earn points and evolve your religion with them! You can see the main features of a nation when you click on their lands. Improve your belief system into something that all nations would like to participate in, and control the world!
If you like strategy games, you can check out Slime Rush TD 2 and raise towers and upgrade them to protect your lands!
Developer
GameFirst developed God Simulator.
Release Date
February 28, 2022
Features
Colorful and fun drawings
Easy controls
Endless combinations
3 difficulty options
Controls
You can use your mouse to play this game.