Play Now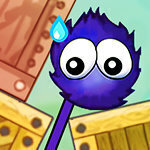 In Catch The Candy, are you ready for a delicious adventure full of colorful candies? Before starting the game, we recommend you fill your stomach if you haven't eaten your daily sweets! Also, strategical skills and targeting are other necessary deals for this fun skill game. During the game, all you need to do is reaching the candy. Sounds fun, right? Then let's start the game!
The colorful and delicious candy is all what is important in the fun puzzle game. But it ends up in very strange places all the time! The objective of the game is to control the purple little hungry fur-ball and use your elastic arm to reach that delicious candy. Go beyond your imagination because it looks like everything is fair in this quest! To start the game, click on the level box. You can simply use your mouse to play this game. Click on the candy or other objects so that your fury-ball will stretch its arms. You can use the objects around you to swing through until you reach the candy. There are 75 mini levels for you to enjoy this sweet adventure! Start the game now and get ready to ease your addiction for o' sweet-sweet candy!
Be sure to check our collection of free and online skill games to browse more strategy involved fun adventures like this game.
Developer
Yohoho Games developed Catch the Candy.
Release Date
February 12, 2020
Features
2D colorful graphics
75 mini-challenges to complete
Intuitive controls
Entertaining and addictive gameplay
Controls
You can play this game with your mouse.