Play Now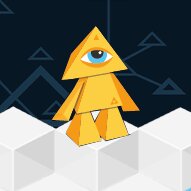 Fall off the platforms and see what happens in Celestial Fall! An interesting game is here for you to test the limits of your reflexes. As easy as this game seems, we can't guarantee you a soft gameplay experience. Are you ready to test yourself with this interesting game?
Come here to have fun while trying to beat your own record repeatedly. We are sure that you will be addicted to this arcade game. Your aim is to fall gently with the character here, Magda. Magda falls freely on the blocks that are placed strategically. The problem is that there are some blank spots in the way that these tiles are put. You should carefully switch directions not to fall. Occasionally, you will see some red spikes on the way. Stay away from them not to fail the level, too. When you see blocks of different colors like blue, go for them since they will give you different skills like jumping one block over. Now get your focus and prepare your fingers because you will need to rapidly change the direction of Magda to go as low as you can in this endless platform!
If you enjoyed playing this interesting arcade game, you should check out our other online skill games to have an equally interesting experience!
Developer
Wanted 5 Games B.V. developed Celestial Fall.
Release Date
October 26, 2021
Features
2D colorful graphics
Endless platform
Intuitive skills
Relaxing yet challenging game experience
Addictive gameplay
Controls
You can click on your mouse to change the rotation of Magda.