Play Now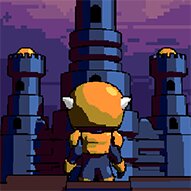 Run in circles, advance through endless towers, and shoot various monsters to earn gold and treasures with Towerland! This dark fantasy world offers you unusual fighting mechanics and infinite enemy combinations! Inspect and solve the movements of your enemies, plan yours, lure them around the room, and shoot magic balls to kill them!
Feel the nostalgia through the story and graphics, and duel with terrifying bosses with unique attacks! Our hero finds himself in a room and has only one option: to move forward. Every new room comes with new enemies, and killing them unlocks the door to a new room. Each enemy has different movement and attack patterns, so you must study them to survive this chaos. Run around and never stop shooting as they are busy chasing you around the room. Stay agile to dodge random high-range attacks and loot what the monsters drop. You can see your lives on the top left; some monsters drop extra lives upon their death, so you can regenerate by killing. You can come back to the main menu and stop by the shop to upgrade your attacks, maximum hp, range, attack speed, movement speed, and ratio with the gold you loot. Keep up with the pace of this deadly dance and rise to the top of the towers!
If you like this addictive shooter game, you can check out our Shooting Games and work on your aim further!
Developer
Catom Games developed Towerland.
Release Date
May 12, 2022
Features
Colorful 2D graphics
Pixel arcade theme
Addictive gameplay
Improvable stats
Controls
Use "W, A, S, D" to move and the arrow keys to shoot.