Survival 456 But It Impostor
Play Now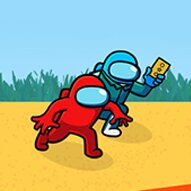 Fight among enemies in Survival 456 But It Impostor! You are taken hostage among many others on an abandoned island. Things are hard and games are challenging, but you must win them to survive! Are you ready to fight for your life?
Here, you will find yourself among many other people whom you may think of as enemies. This is because these games are ride or die and you must defeat your rivals to live. If you can finally win all the games and be the champion, you will be awarded a huge total of money reward. So, try to win each one of the nine games including but not limited to a zombie attack, rope rescue, tug of war, or red, green light. You will earn some coins or diamonds with each game you play. So, feel free to use those to buy new tools and upgrade your living space on the island or unlock new skins. Let's see if you can crack the code of these difficult games and be the champion!
If you enjoyed this fun and challenging adventure game, you may also play Super Friday Night Squid Challenge for a similar yet interesting game!
Developer
Bin Studio developed Survival 456 But It Imposter.
Release Date
January 22, 2022
Features
• 2D colorful graphics
• Constantly updated games
• Challenging gameplay
• Upgradeable in-game world
• 9 games with many levels
Controls
You can use your mouse to click on the options and play the games.