Play Now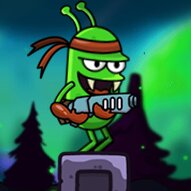 It is time to do your duties for the universe and stop the zombies from roaming worlds freely with Zombie Catcher Online! Play as a green alien, buy and upgrade gear, and travel between planets and different galaxies to catch brain-eating escapees. Complete more than fifteen levels of action to bring the peace back once again!
Who keeps zombies in a cage? Your people did, obviously. And who cleans after they mess up? You do! As there are no other options, you must now grab your gun, put on your jetpack, and set up your most cunning traps to lure the monsters. Being the considerate green buddy you are, you do not actually kill them; you just fire a complex mechanism to tie them up with balloons and leave them hanging in the air. Jump over obstacles, use brains to lure the zombies, and hide behind boxes to wait for the right time. Complete your missions successfully to earn gold and use it to upgrade your jetpack and attack, movement, and reloading speed between levels. Keep up with the increasing difficulty and develop new skills while your enemies get tougher. Face new types of enemies as you advance and bring them all back to where they belong!
If you like interesting and thrilling stories, you can check out our Adventure Games!
Developer
kiz10.com developed Zombie Catcher Online.
Release Date
May 12, 2022
Features
Colorful 2D graphics
Cartoon characters
Improvable gear
Available on mobile devices
Controls
You can use the arrow keys to move and the spacebar to shoot.