Play Now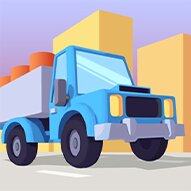 Being a truck driver is not one of the most common career dreams, but it definitely is a respectable and difficult job, and Truck Deliver 3D is here to show us that! While it is not an unusual job, it certainly is a dangerous one. This game takes the danger aspect and takes it a few levels higher with obstacles and slippery grounds.
Your truck has problems with taking turns while moving forward. In fact, all your trucks do. So what you do is pull your foot from the gas before every turn, ramp, and new ground type. You will start driving on relatively easier tracks, climbing up and down hills, moving through slightly bumpy areas. But things will get tougher with every new level, and you will have to hit the brakes more and more often. Icy roads and never-ending road curves will not stop challenging you, but even crashing at pastel trees is a fun part of learning. You can check the garage and unlock new vehicles with different speeds and clutch features. These other truck options also come in different shapes and colors. All you have to do is keep collecting money and watching out for spilled oil and icebergs on your way!
If you like defying the laws of physics with your car, you can check out Super Buddy Run 2: Crazy City!
Developer
CarGames.Com developed Truck Deliver 3D.
Release Date
March 1, 2022
Features
Colorful 3D graphics
Changing background colors
Unlockable truck options
Available on mobile devices
Controls
You can use your mouse to play this game.