Play Now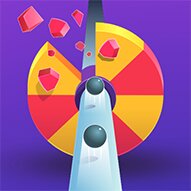 You are invited to a vibrant coloring challenge with Color Pop 3D! Examine the speed and patterns of the rotating plates and practice the perfect timing to shoot color bombs at the tiles! Go out on an endless run and test your limits and skills against a fast-paced mechanism!
Sneak behind machines to color the world! These mechanisms move like fans or clocks; their wings spin clockwise and counterclockwise at different speeds. The rule is to be patient, watch their moves carefully, and color the plates while dodging these wings. There is a small problem though; these wings change speeds and ways randomly. Every level has a different movement pattern, and it is up to you to rush and pray for it to work or carefully examine them and come up with a tactic. There is no time limit, and this is a big advantage because some levels take time and preciseness to complete. Failure resets your score; however, you stay at the same level and continue from there. Challenge yourself with your best score in this endless 3D marathon of painting! Good luck not getting mesmerized by the satisfying color shifts and changing backgrounds!
If you enjoy games that challenge your reflexes and skills, you can check out our Skill Games by clicking here.
Developer
Fuego! Games developed Color Pop 3D.
Release Date
May 10, 2022
Features
Amazing 3D graphics
Vibrant colors
Improving reflexes
Fun and addictive gameplay
Available on mobile devices
Controls
You can use your mouse or the spacebar to play.