Play Now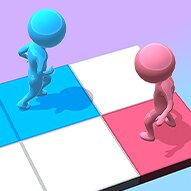 Paint everywhere with Color Puzzle! In this fun 3D game, you will be presented with its unique gameplay. Just slide your stickmen and see what happens for yourself. How many levels do you think you can complete in this fun game?
Here, you will see tens of levels that are created in a way to let you have fun while solving a unique kind of puzzle. First, you are given different tables with squares that come together and make various shapes. On these tables, you will see some stickmen standing. Each stickman has its own color. When you click on a stickman and slide it, you will see it giving its color to the tiles it passes over. This is important since your task is to copy the color scheme given on the sample table to the top of the screen. Sometimes, you will need to remove the stickmen until you get the right color scheme. So, relax now and play to have a soothing game experience while also trying to find the quickest way to solve puzzles.
If you enjoyed this interesting puzzle game, you should also check Construction Set for another fun 3D puzzle game!
Developer
Nevar Games developed Color Puzzle.
Release Date
November 11, 2021
Features
• 3D colorful graphics
• Multiple levels to complete
• Intuitive skills
• Soothing game experience
Controls
You can use your mouse to slide your colorful stickmen.