Play Now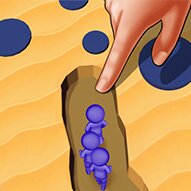 Maths, reflexes, foresight; it takes every skill a person has to beat Color Raid. Your men are just numbers here, and your job is to keep those numbers as high as possible. Get yourself ready for the hardship waiting for you from level one. Adapt to the changing colors and keep up with the tempo. Do you have what it takes to conquer all castles?
The simplicity of this game is what makes it challenging. You just have to clean the way for the soldiers to pass and reach the castle. The only problem is that almost everything they touch changes their number, which has to be higher than the enemy soldiers' waiting for them right before the fort. Any color that is different than your men's kills them, just like staying behind the crowd does. You will have to move through doors that need a number of sacrifices, portals that will add to or multiply your numbers, as well as color-changing zones that will force you to adapt to them immediately and keep moving forward. Bend walls and move through passes that also work as traps. Reach the finish with an army bigger than your enemy and crush them!
If you like challenging your reflexes and puzzle-solving skills at the same time, you can check out Gun Fest and stop a robbery with your math abilities!
Developer
OneTwoPlay BV developed Color Raid.
Release Date
March 22, 2022
Features
Colorful 3D graphics
Easy to play
Improving logic skills
Addictive levels
Available on mobile devices
Controls
You can use your mouse to play this game.