Play Now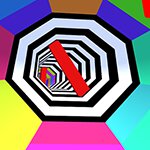 In Color Tunnel, get ready to dive into a tunnel full of colors! If you trust the sharpness of your attention and believe that no amount of shifting and flashing colors would distract you, then start playing now. The tunnel is long and full of obstacles. Are you ready to embrace the challenges in this game?
It's time to put your reflexes and your eye-hand coordination to test in this popular and amazing game! Unlike many tunnels, this one has no end! Your objective in this game is to travel as far as you can without crashing into any obstacles on your way. The controls of the game might be simple, but there is still a challenge to the gameplay! When you start, your ball will move forward on its own. All you have to do is to use the left and the right arrow keys to move your ball to sides to avoid crashing into the obstacles. These come in many shapes and forms. Each requires careful attention, so keep your eyes on the screen. The distance you've covered can be seen in the upper left corner of the screen. Passing through portals takes you to the outside and inside of the tunnel. Be careful and break your own record.
Enjoying the mind-numbing color shifts? Be prepared for more in the second game of the series, Color Tunnel 2. You can play it by clicking here! Have fun.
Developer
Color Tunnel was developed by Royale Gamers.
Features
Fast-paced gameplay
Various obstacles
Colorful world with 3D graphics
Intuitive controls
Controls
Use the left and right arrow keys to move around.