Play Now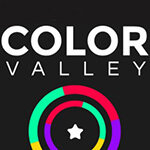 In Color Valley, get ready for a vivid yet challenging journey. So many obstacles made from different colors are waiting for you, and you should be careful. Test your hand-eye coordination through the challenging gameplay of this game to see how many points you can collect.
Don't be tricked by the beautiful and vivid colors, and pay attention to your surroundings. The objective of this game is to travel as far as you can to collect as many stars as you can to earn a high score. You can play this game with your mouse, so click on the play button on the main menu screen to start. With your every click, the ball will jump upwards. Each obstacle has differently colored parts. Your ball can pass through the parts of the obstacles in the same color as it is. To advance through the level without an issue, pay attention to the movement of the obstacles and try to pass through it when you're facing the correct colors. You can collect tokens that can change your color. Collect stars to earn points and good luck!
If you like to test yourself and have fun at the same time, then you should check our collection of free and online skill games. Enjoy!
Developer
DAB3 Games developed Color Valley.
Release Date
December 12, 2016
Features
Colorful 2D graphics
Intuitive controls
Challenging and addictive gameplay
Various obstacle types to evade
Controls
You can use your mouse to play this game. Click on the screen to make your ball jump.