Combat Strike Multiplayer
Play Now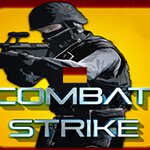 In Combat Strike Multiplayer, you take the role of a skilled shooter and join other players in an online multiplayer gameplay environment. With so many weapons at your disposal and loyal teammates by your side, your opponents don't have a chance to win this battle. Aim well, take cover and attack when you find an opportunity to defeat everyone in the enemy team.
Welcome to the battlefield soldier! Your objective is dangerous, but your superiors trust you with this mission. You try to defeat the enemy team by scoring more points than them by the time your timer ends. Surviving the heat of the battle is not an easy task, but with the easy controls of this game, you can conquer each enemy base with ease. Start by choosing a room to play. When you enter the map, pick a team, and get going. At the top of the screen, you'll see your weapons list. You can track your team's score form the top of the screen. Good luck soldier!
Keep your weapons close and dive right into the action in our other popular game, Stickman Shooter. Click here to start playing. Have fun!
Developer
AngryGamez developed Combat Strike Multiplayer.
Release Date
April 9, 2018
Features
Colorful 3D graphics
Online multiplayer gameplay
Intuitive controls
Daily rewards
Different types of weapons to collect and use
Controls
Use the WASD keys to move around the map. Use the 1 and the 2 numerals to cycle between available weapons. use your mouse to aim and change your directions. Click on the screen to shoot. Press the SPACE BAR to jump.