Play Now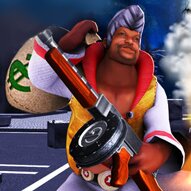 Vegas Clash 3D invites you to take a journey to Las Vegas! Are you ready to discover this amazing city while you are on a great duty? It is going to be a dangerous one, this adventure, though. You joined the Sassy Elvis gang, and you will be doing the greatest theft of your life. Don't forget to take your gun from home because you will have lots of enemies. Are you for the thrill now, then let it begin!
You'll have nowhere to be safe once you step into the area. You and your gang must complete this mission no matter what. You are going on a casino robbery! Your objective will be to find the money bags by walking around the casino. Each gang has a van. Take the money bag to your van before it is too late. You'll have a limited time as the first challenge. The second challenge will be the members of other gangs. Kill the gangster with the other colors without any hesitation. Extra points to headshots! Act quick and careful during the round, which lasts 3 minutes. You collect stars for your kills and life bar. You will need them to upgrade your character stats and achieving the golden weapons. Good luck and have fun playing!
Looking for more thrill in your life? If so, you'd better be checking our collection of free and online action games that will blow your mind by only clicking here.
Developer
Freeway Interactive developed Vegas Clash 3D.
Release Date
September 14, 2021
Features
3D colorful graphics
Several weapon skins to upgrade
Multiplayer shooting game
Exciting and progressive gameplay
Controls
WASD to move. SPACE to jump. C to crouch. RMB to aim. TAB for the score table.