Play Now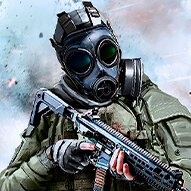 Team up with others to kill enemy soldiers with Command Strike FPS! Build a character, improve your gear, and join online matches to face other players in different arenas! Explore the thrilling game modes and unique maps that are brilliantly built mazes with hiding spots! Bring the victory to your team, earn gold, and unlock new weapons and protective gear for your character!
Feel the adrenaline and every effect of war with this battle simulation! Take on different roles as a mercenary and clash with every other player, or team up with others and work as a group! Follow the game scores and kill cams between rounds, replay with the players you like, or just move on to the next match! Complete a total of sixty missions in three maps. Check your daily tasks every day and complete them for extra rewards. You can also log in daily to get surprise gifts. Choose between three online modes and load up your weapons. Free-for-all mode puts you on a battlefield where everyone is trying to kill each other, including you. Team Deathmatch puts two teams against each other in the warzone. Finally, the flag game gives you a limited time to capture the enemy team's flag. Invite your friends and try all modes!
If you like the realistic battle atmosphere and shooting games, you can check out ArmedForces.io for another online game with deathmatches!
Developer
Full HP Ltd developed Command Strike FPS.
Release Date
July 21, 2022
Features
Nice 3D graphics
Online and single-player matches
60 levels
Four game modes
Unlockable weapons and gear
Controls
Use "W, A, S, D" to move, the spacebar to jump, shift to run, and "C" to crouch.