Play Now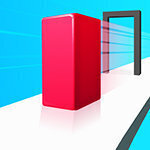 In Cube Shift, it's time to take control of an elastic cube and challenge your hand-eye coordination. With its multiple levels filled with different obstacles that you should overcome, are you ready to test yourself in this game?
Your main objective in this game is pretty simple and fun! All you have to do is to pass each level by reaching the finish line through various obstacles. You can play this game with your mouse. Click on the screen on the main menu to start playing. When you start, your cube will move on its own, but you have to change its shape to make it pass through different obstacles. To do that, click on the screen and drag your cursor up and down. You'll see the reflection of your cube on the obstacles, so you can adjust the shape just right to make sure it passes. If you can't, you'll bounce off from the obstacles and have to try again. In this situtation, you'll also lose fever. At the top of the screen, you can see your fever bar. Once it's filled, you'll activate the fever mode which allows you to pass through all obstacles by destroying them. You should also collect gems. You can spend these to unlock new cubes from the in-game shop. Enjoy!
Why not try something different next? Have you checked our popular title, Gold Mine Strike yet? Have fun!
Developer
BPTop developed Cube Shift.
Release Date
October 28, 2019
Features
Colorful 3D graphics
Multiple levels to complete
9 different cubes that you can unlock and use
Intuitive controls
Entertaining and addicting gameplay
Controls
You can use your mouse to play this game.