Cursed Treasure: Don't Touch My Gems!
Play Now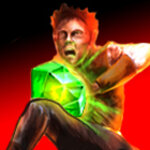 Cursed Treasure: Don't Touch My Gems! is a fun and thrilling tower defense game in which you need to protect the gems instead! There is an endless war going on. But the three big nations; fire, water, and earth are on your side to complete this ultimate mission and protect the precious gems. If you are ready, let this fight begin once and for all!
As the chosen one from the great powers, it is your time now to put an end to this ongoing attack of the enemy forces. The only thing they care about is to take all the colorful gems, and they are ready to destroy everything on their way. In this fun strategy game, your objective is to destroy the attack waves by building up three categories of troops. You can place them on the empty spots belong to their nations. If the circle line turns green, it means the spot is suitable for replacement. You can speed up the attack by clicking on the attack button and increase the pace by clicking on the arrow button next to the attack. Each kill will earn you coins, and you can spend them to boost the Tower's Fire Rate, Tower's Range, and Tower's Damage. You can also upgrade your troops during the fight. Good luck and have fun!
If you want to try another thrilling tower defense game like this one, then be sure to check Heroes of Myths Warriors of Gods.
Developer
IriySoft developed this game.
Release Date
July 29, 2019
Features
2D colorful graphics
Building troops and protecting gems
Various boosters and stat upgrades
Fun and entertaining tower defense game
Controls
You can use your mouse to play this game.