Play Now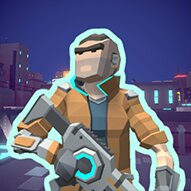 Dive into a Cyberpunk reality and defeat the evil robots with Cyberpunk: Resistance! Grab your laser gun, gather up your team, and defend your race against the soldiers of the latest technology! Adapt to this futuristic dystopia and take your place in the final battle to save humanity!
Load your laser gun and prepare for your final mission against the robot assaulters! These evil machines are planning one final attack on the last remaining humans, and they must be stopped at once! Join the soldiers of humanity and stop their plans before they take over the world completely! Take level orders and complete them to get to the next mission. Shoot enemies without getting shot to get out of these missions alive. Help team members and protect each other on the battlefield. Start the first level. You can see the whereabouts of your enemies by checking the compass bar above. Run around the map, sneak behind the robots, and take them down without getting too much attention from other soldiers. Earn from the successful missions, upgrade your gear, and buy new devices. You can also unlock new characters from the game shop. Watch short ads to earn some extra cash and keep up with the increasing difficulty!
If you like this futuristic battle game, you can check out our other Action Games to find more games like this!
Developer
Justaliendev developed Cyberpunk: Resistance.
Release Date
August 9, 2022
Features
Nice 3D graphics
Unlockable character skins
Weapon upgrades
Neon cyberpunk theme and an open map
Addictive levels
Controls
Use "W, A, S, D" to move, the spacebar to jump, left shift to sprint, and mouse to shoot.