Toys Shooter You vs Zombies
Play Now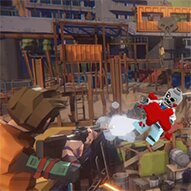 Dive into a toy world and hunt toy zombies with Toys Shooter You vs Zombies! Run around freely on a giant map and stand your ground against the undead invaders! Discover and use your surroundings to your advantage, strategize to win, and pull your enemies to your traps to eliminate multiple zombies at once!
The human civilization as you know it is gone, and it's not coming back any soon. Somehow, you managed to make it through the toy zombie epidemic, and now it is your job to defend the streets you once called home. Unfortunately, your loneliness does not stop zombies from coming at you in waves. Each level gives you a quest to kill one hundred of them. Of course, such a grim job pays handsomely. Keep your distance from these bloodthirsty monsters, shoot at their heads, and move further while reloading. Always keep them in your sight, and do not take them lightly because some zombies can move very fast! Pull them near explosive barrels and trigger explosions to blow them up. Buy new weapons with your money to keep up with the increasing difficulty. You can also change your appearance and buy accessories on the main menu!
If you like zombie hunts, you can check out Zombie Mission 2 and save your friends from the monsters of death! Developer kiz10.com developed Toys Shooter You vs Zombies.
Release Date
June 2, 2022
Features
Colorful 3D graphics
Fun toys theme
Improvable weapons
Unlockable contents
Controls
"W, A, S, D" to move, mouse to shoot, mouse wheel to change weapons, G for grenades, R to reload, F to pick items up, shift to run, CTRL to crouch, and the spacebar to jump.