Play Now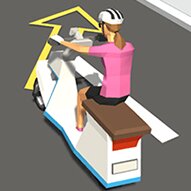 People need their food delivered and you are there to do this in Delivery Racer! In the modern world, everything goes so fast. Thus, people love fast food and fast delivery. Like a delivery guy who loves rocking his motorbike, you are here to show everyone how this is done. Now, are you ready to deliver everything in your hands as fast as possible?
You love your job, and most importantly you love your motorbike. Now, hop on your motorbike to do what you are best at. You have tons of food delivery to deliver to people and it is not the easiest thing to ride your motorbike freely to deliver that food fast in this crowded city. Thus, you need to focus on the road, look forward and try to reach your finishing point. On the road, there will be traffic cones and barriers for you to dodge. If you accidentally hit any barriers, you will have to restart the level. But it's not always barriers and stuff that you will see on the road. There will be sets of money bundles on your way for you to collect. Don't forget to get them. Your main objective, of course, is to drop by the mailboxes and deliver the packages. So, try to go over the areas shown with an arrow to drop your deliveries. Let's see how many levels you will see in this game!
If you want to play more games like Delivery Racer, you should check out our collection of free and online skill games.
Developer
BPTop developed Delivery Racer.
Release Date
October 26, 2021
Features
• 3D colorful graphics
• Multiple levels
• Addictive gameplay
• Motorcycles to unlock
Controls
You can use the mouse of your computer to press the pedals on the screen.