Dino Squad Battle Mission
Play Now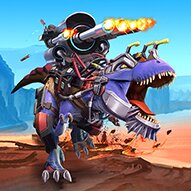 Dino Squad Battle Mission brings you super realistic lethal dinosaur tanks! These oldest inhabitants of the earth are now deadly weapons fighting against other powerful giants. Get ready to witness the battle between the biggest and most terrifying creatures to ever walk this world.
These huge and scary predators are now equipped with machine guns. With the coins you can get from successful battles, you can upgrade the damage and health stats of your monster and get new items to bring them to another level of fatality. Remember the coin you get from victories? You can triple them by watching a short ad. With those ads, you can also unlock new armor and guns faster. Power up your dinosaur at every chance you get and get into the battlefield. Move around the arena to collect gold, aim at your enemies, and shoot them. But be careful about the damage you get while reloading. Check new equipment offers and your dinosaur's stats between battles while waiting for your energy to refill. Kill more enemies to improve faster and use that improvement to kill even more enemies. There is no way you will miss the victory with that vicious army.
If you enjoy playing this game, you can play more shooting games by clicking here.
Developer
YAD.Com
Release Date
November 8, 2021
Features
Amazing 3D graphics
Cool and realistic character design
5 different dinosaurs to unlock
Available on mobile devices
Controls
Use your mouse to aim, "W, A, S, D" to move, and spacebar to shoot.