Play Now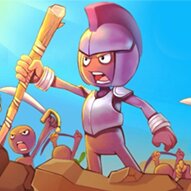 In Draw Attack, you are about to go to hot war! Your country is under attack and the people urgently need a hero, a leader! And you are the best in town! If you are ready, the army is waiting for your leadership to win this war! Good luck!
In ancient times, wars were fought in castles. Lots of people were dying because of these hot wars. Now your country is under threat and enemy troops are about to attack you! You have to get ready as soon as possible and banish the enemy from your land! As the commander of the war, your goal is to create a smart plan and maximize the effectiveness of your existing forces. To create your own faith, press the fight button. Your troops are shown at the bottom of the screen. Swordsmen, archers, wizards, and giants are among your army. But the majority of them have left you since they are unsure if the battle will end in a draw. You must show your strength and earn victories in order to acquire their support. By dragging a line in the white space, you can place your troops. Don't forget to make upgrades using the money you earn. Good luck!
If you want to try another game similar to Draw Attack, then be sure to check Heroes of Myths: Warriors of Gods by clicking here.
Developer
Yizhiyuan Network Technology Co., Ltd. developed Draw Attack.
Release Date
May 19, 2021
Features
Many different troops to send to battle
3 different upgrades to buy
Nice 2D graphics
Fun and addictive gameplay
Many levels to complete
Controls
You can use your mouse to play this game.