Play Now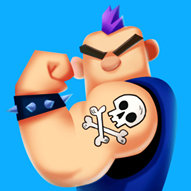 In Draw Tattoo, it is time for you to use your drawing skills for a real profession! As the best tattoo artist in the city, you decided to open a new shop, and you need to decorate it. Of course, you need to make the clients happy by drawing the tattoo they wanted to buy the items for your shop. Your name is already known by a lot of people. But can you make the best of your work?
Being a good tattoo artist requires a great deal of creativity. But some customers can really insist on what they want and get angry when it doesn't turn out the same design. In your situation, you need to do your best to create the most similar shape as your clients' demand. You should pick the most suitable needle for the current tattoo and start drawing. Click on the mouse and slide it through the guides to complete your drawing. When you are finished, you can tap on the "DONE" button if you are happy with the result. Otherwise, you can tap on the left button to restart to draw. You can get maximum of 3 stars depending on your performance. With each customer, you also earn money in the game, and you can use those earnings to decorate your shop. Good luck with the designs!
If you are looking for other skill improving games, be sure to check our collection of free and online skill games by clicking here.
Developer
BPTop developed Draw Tattoo.
Release Date
March 18, 2020
Features
2D colorful graphics
Various tattoo designs
Shop decorating with the earnings
Entertaining and addictive gameplay
Controls
You can play this game with your mouse.