Play Now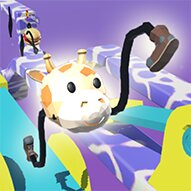 Draw a pair of legs for yourself and run to the finish line with Drawer Super Racer! Get matched with tough enemies with hilarious looks, line up before the start, and draw anything to use as legs! Watch the legs the enemies draw and try to focus on the track while nothing makes sense!
You and the adorable character you are about to draw legs for are a team, and this team is going to the top, literally, because there is an elevator filled with gold coins waiting for the winner at the finish line. So, take a deep breath and let your drawing skills do the talking. The rest is on your teammate. Grab the pen and draw the shape that you think will take your team to the finish line fastest. Watch the competitors speed forward and wait for the boosters. Use the boosters that appear on the table, jump or accelerate to keep your position on the top, and leave your opponents behind. Earn coins from your victories and stop by the game shop. Check out the character skins and shoe options available for your teammate. Watch short ads to unlock skins and find the right style for you!
If you like this fun drawing race, you can check out our Skill Games and find more games like this.
Developer
Seryas Games developed Drawer Super Racer.
Release Date
May 20, 2022
Features
Easy to play
Funny characters
Challenging opponents and addictive matches
Unlockable skins
Available on mobile devices
Controls
You can use your mouse to draw legs and activate boosters.