Play Now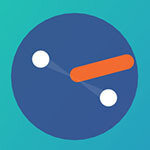 In DUO, prepare yourself to master the art of timing! Do you trust your skills in timing and think you are patient enough to master the art of quickness? Well, then the many challenging obstacles of DUO await you! Do you think you are the right person to finish this game! Lets start then!
Hand quickness and perfect timing are difficult skills to master! And they are a necessary set of skills that every gamer should improve! And DUO is the perfect game to improve these skills. But you need to be extra patient if you want to be the MVP in this game! Don't say we didn't warn you! In this game, your objective is to move through each obstacle without touching them. Sounds easy? Think again! Tap the screen repeatedly to go up but be careful! Only the middle of the stick can touch other objects. The two dots at the end of the stick cant touch the objects or you will lose the game! So, you need to wait for the best moment to pass the obstacles. The obstacles keep moving and rotating so you need to plan your moves beforehand and be a strategic thinker! Try to keep your balance while you're moving through the objects. Only the quick and smart will accomplish the goals and pass each obstacle in this game. Do you think you are qualified for this position?
Oh, so you think you're good at playing skill games! Then, be sure to check our collection of free and online skill games to browse more fun and challenging titles like this one!
Features
Fun gameplay
Intuitive controls
Nice graphics
Multiple obstacles to overcome
Controls
You can use your left mouse button to play this game.