Play Now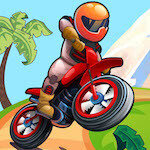 In Extreme Bikers, get ready to face the challenges of the tracks and embrace your daredevil heart! Put on your helmet, keep your eyes on the road, and perform amazing stunts, but try to be as fast as you can! Do you have what it takes to prove that you're the best biker in the world by collecting every star on each level?
Performing stunts is not an easy job, but you're no ordinary biker! The objective of this game is to complete each level as fast as you can to collect all the stars. The game features 12 different and challenging levels for you to complete. You can start from the first level and unlock the rest as you play. Use the arrow keys to move your bike. Don't expect an uneventful ride! Each level is filled with various obstacles and challenges! From traps to other hindrances, you should be ready to overcome whatever stands between you and the finish line! If you get caught in one of the traps, you can spawn at the checkpoints. Your score is based on how fast you complete a level. Ride fast and carefully, and collect 3 stars on each level to prove you're the best!
If you're looking for a similar game to play next, click here to try Moto X3M, one of our most popular titles! Enjoy!
Developer
Agame developed Extreme Bikers.
Release Date
July 30, 2018
Features
12 different levels to complete
Intuitive controls
Entertaining gameplay
Colorful 2D graphics
Fun and challenging level designs
Controls
You can use the arrow keys to play this game. The Up and the Down arrow keys can be used to accelerate and drive back. You can use the Left and the Right arrow keys balance your bike.