Play Now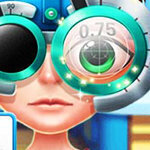 In Eye Doctor, two patients are knocking on the door of your clinic, and you should help them. Neglecting to take care of their eyes, these two patients have many complications. Grab your tools, prepare your examination room, and make sure they'll leave your clinic with healthy eyes.
No one wants to lose their sight, but that could happen if you don't take good care of your eyes. Your objective in this game is to treat your two patients and make them happy. You can play the game with your mouse, so click on the play button on the main menu to start the game. Next, pick one of the patients. To play the game, follow the pointers on the screen. At the bottom, you'll see various tools to use for different things. Click and drag them to the eyes of your patient, and move them around to use them. Dry the tears from their eyes, get rid of scars, and eliminate the bacteria. For each patient, you have to complete 3 stages before they regain their health. Do your best as the local eye doctor, and keep your patients happy. Have fun!
If you want to check other similar titles to this one, then be sure to visit our collection page of free girl games by clicking here. Enjoy!
Developer
babygames.com developed Eye Doctor.
Release Date
January 6, 2020
Features
Colorful 2D graphics
2 different patients to take care of
Intuitive controls
Entertaining gameplay
3 different stages to complete
Various tools to use
Controls
You can use your mouse to play this game.