Play Now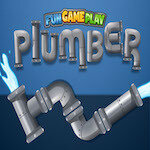 In FPG Plumber, we need a real smart plumber before the whole building is flooded! Fixing these pipes requires more logic than mechanics though! What you should do to fix the flooding problem is finding the correct rotation for each piece and connect the pipes. Do you trust your speed and strategical thinking skills before we all sink?
Doesn't matter how it happened, but some of the pipes are falsely rotated and the building is in danger of a big flood. Your objective in this fun strategy required puzzle game is to rotate the pipes in the correct direction so that the water will continue to flow. Click on the pieces to turn them until reaching the correct direction. When you click on the play button, you will see two different game modes that you can select. The first one is the classic mode in which you can spend how much time as you want, and your scores will be calculated according to your move numbers. The second mode is the time mode in which you have to race against time to rotate all the pipes and stop the flood. Your score will be calculated according to the time you spend in this mode. Click on your current level and start this crazy game now!
Now that you handled our pipe problem, can you help this cute couple to gather Love Pins by clicking here?
Developer
Agame developed this game.
Release Date
November 14, 2017
Features
2D colorful graphics
2 game options to choose
Racing against time
40 levels to succeed
Controls
You can play this game with your mouse.