Fire And Water Geometry Dash
Play Now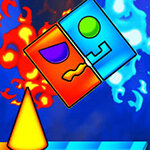 In Fire and Water Geometry Dash get ready to control both fire and water! This game is nothing like you've ever experienced before! You have to control not only fire but also water to complete each challenging level! This game requires the perfect balance of the two elements. Do you have the power to control both fire and water?
Are you looking for a more challenging game to improve your reaction time and have super-quick reflexes? Then this is the perfect game for you! After all, practice makes perfect! This game will test your hand speed with its thrilling levels. Your objective is to pass through each obstacle you see along the way and complete the levels! You control both fire and water and the environment changes between two elements! So, you have to be careful and change your element according to the environment. You can switch between elements by using the space bar. To pass the obstacles and jump, use the left mouse button. Passing through portals might sometimes give you a speed boost or make you fly on a rocket. Try to avoid the spiked orbs. If you touch an obstacle or can't jump or change on time, you'll have to start from the beginning! One of the most entertaining things about a game is customization. Collect stars in each level to customize your appearance. Can you complete all the levels in this challenging game?
If you like playing skill games don't worry, we have more! Check our collection of free and online skill games by clicking here and improve your skills.
Release Date
March, 2018.
Features
Many customization options
Fast-paced gameplay
Colorful 2D graphics
5 levels to complete
Controls
Use space bar to change between elements. Use left mouse button to jump.