Play Now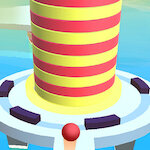 In Fire Balls, colorful columns rise to the sky and you got a powerful cannon to bring them down. Featuring lots of challenging and fun levels that you can complete, are you ready to dive into the colorful and 3D world of this addicting game?
Get ready for some destruction! Your objective in this game is to complete each level by destroying each tower without dying. These structures are big and sturdy, but nothing could stand in your way when you have a powerful cannon by your side. You can play this game with your mouse. When a level starts, your cannon will move next to a tower. Click and hold your mouse on the screen to shoot balls. But you should be careful! Whoever built these things made sure to implement some obstacles for you. You'll see curved walls circling around the column. You should prevent hitting those, as they'll deflect your ball, and this will cause you to lose. But don't worry! By collecting gems, you can get a special ammo type. This ammo ignores the obstacles and destroys them just like the columns. You have a limited amount of these, so use them wisely. Have fun!
Accept the many challenges in our free skill games, and improve your various talents by playing. Enjoy!
Developer
codelab developed Fire Balls.
Release Date
January 2, 2019
Features
Colorful 3D graphics
Intuitive controls
Entertaining gameplay
A special ammo to unlock
Multiple levels to complete
Controls
You can use your mouse to play this game.