Play Now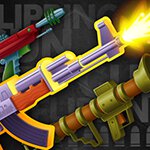 In Flipping Gun Simulator, it's time to bring out your guns! Come and test your skills in this fun game as you send one bullet after another! Different from other games that include guns, you don't have any enemies here. The biggest challenge in this game is to stand against gravity and reach as high as you can by using the recoil of your gun!
Bang bang, it's time to shoot! Your objective in this game is to make your gun travel as high as you can! You'll need a couple of training sessions to use a gun like a pistol or a rifle effectively, but in this game, all you need is your mouse. Start the game by clicking on the play button on the main menu. At the beginning of the game, only a simple pistol is available for you to use, but as you collect coins and prove your skill, you can unlock the rest of them! To make your gun move, click on the screen. This will make it shoot a bullet, and it'll move to the opposite direction of the bullet. Collect as many coins as you can, and keep an eye for boosters. You have a limited amount of bullets, so try your best to grab more if you can! If your weapon falls out of the screen or you run out of bullets, you lose the game. Good luck!
Go and check our collection of online free skill games for more! Have fun playing!
Developer
QKY Game Studio developed Flipping Gun Simulator.
Release Date
May 25, 2018
Features
Colorful 2D graphics
5 different guns to unlock and use
Intuitive controls
Entertaining gameplay
Controls
You can use your mouse to play this game.