Play Now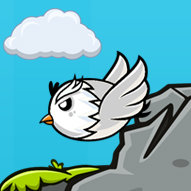 In FlyOrDie.io, your stomach growls, and there are dozens of steps to climb to the top of the food chain. With so many other hungry players around, you should be ready for a challenge. Between claws and teeth, do you have what it takes to survive long enough to become the most powerful player on the map?
Whether you're a fly or an eagle, you should eat to stay alive! Your objective in this game is to reach the highest level you can by feeding your animal and evolving it to more powerful ones. Start the game by entering a nickname for yourself so you can track your points on the leaderboard. In the beginning, you start the game as a tiny fly. In this stage, there are not many things you can eat, and the majority of other players could kill you easily. Fly around the map to find things with a green border. You can eat these and earn experience points. The players with a red border around them are enemies, and you should stay away from them. As you eat and earn XP, you'll level up and unlock the next tier animals. Each animal has a passive ability that helps you survive. Good luck!
If you like to challenge other players, then head over to our collection page of free and online .IO games by clicking here! Have fun!
Developer
Pixel Voices developed FlyOrDie.io.
Release Date
November 6, 2020
Features
Online multiplayer gameplay
Different animals to play as
Intuitive controls
Different powers to use
Controls
You can use your mouse or the WASD keys to move around the map.