Play Now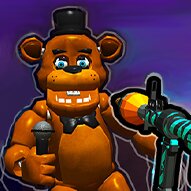 FNaF Shooter brings back the three worst nightmare fuels of the history of computer game characters and gives you a rifle to take your revenge at last! Choose between 6 exclusive rifles with different features, or watch a short ad to unlock invincibility for the next game. Get ready, the time has come to scare these evil toys back!
You know the scary bear and its evil bunny mates from the world-famous horror game series. You have always been on the victim's side of the story, hiding and looking for a way out. Now the tables have turned, and they are the ones that should fear. Of course, as they are a bunch of evil toys, they have no idea about how dangerous you are, and it is not that hard to trace them with the help of the red marks on your map. Get inside their focus areas and run around them in circles while lowering their health. Jump on the rooftops, or use escalators to go upstairs of this abandoned mall and keep killing more of these demonic robots. Reach the goal written on the top left of your screen to finish the level successfully and raise that number with every new level!
If you like shooting horror characters, you can check out Poppy Survive Time: Hugie Wugie and choose the shooting mode to take revenge on another creepy monster!
Developer
GoGoMan developed FNaF Shooter.
Release Date
March 8, 2022
Features
Colorful 3D graphics
Realistic and creepy characters
Dark atmosphere
Unlockable weapons
Controls
Use "W, A, S, D" to move, shift to run, left mouse button to shoot, right mouse button to aim, and spacebar to jump.