Friday Night Funki Big Brother
Play Now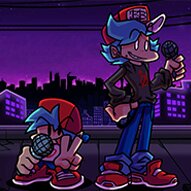 Get ready to rock the dancefloor with your big sibling with Friday Night Funki Big Brother! The season you have been waiting all year is around the corner! Time to dress up for the action, wear your best dance shoes, and warm up your dancing fingers because we are heading to the disco!
Summer is here, the warm nights have come, and the disco season is open now! Time to head to the dancefloor for the challenge of the year! This summer, you will be dancing with the best, your big brother! You will spend every weekend with these challenges for weeks. He will go easy on you for the first few weeks, but do not take it for granted, as things will get much more difficult soon. You will play as the younger sibling against the older one each week. Every two weeks, the difficulty and the tempo will increase, but there is no beat you cannot catch with a little practice. Use the arrow keys to press the incoming button. Keep up with the rhythm and avoid pressing too soon or too late. Face increasingly challenging opponents for three months to become the ruler of the disco!
If you like this fun dancing challenge, you can check out Super Friday Night Funki vs Minedcraft and test your skills against other characters!
Developer
kiz10.com developed Friday Night Funki Big Brother.
Release Date
July 7, 2022
Features
Colorful 2D graphics
Fun characters
Addictive and challenging levels
Easy to play
Available on mobile devices
Controls
You can use the arrow keys to play this game.