Play Now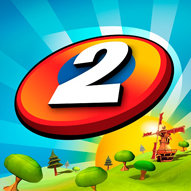 Frisbee Forever 2 is here to test the strength of your throwing arm, as there are many different levels you need to complete in this addictive 3D game. One of the most entertaining toys to play with, frisbees are simple to use but hard to master. Show your talents in this game as you unlock different worlds and earn trophies!
Featuring dozens of levels for you to complete, this game will take you on a fun and challenging journey. Your objective in this game is simple, as all you try to do is complete each level by reaching the last hoop with your frisbee. You can play the game either with your mouse or with the arrow keys. The game features 8 different worlds, each with multiple levels in them. You unlock levels one by one as you play, and when you complete all the levels in a world, you unlock the next one. On each level, you control a frisbee through a challenging track filled with obstacles. You earn coins as you complete levels and can use these to buy new frisbee skins from the in-game shop. There are also many different missions to complete! Pass through the hoops, collect stars, and try not to crash into anywhere! Enjoy!
For more other challenging games, do not forget to browse our collection of free and online skill games by clicking here.
Developer
Kiloo developed this game.
Release Date
October 15, 2020
Features
8 different worlds to unlock and play in
Colorful 3D graphics
Entertaining and challenging gameplay
Intuitive controls
Dozens of levels to complete
Different missions to complete
Different upgrades to get
Different frisbees and trophies to unlock
Controls
You can use your mouse or the WASD or the arrow keys to play this game.