Play Now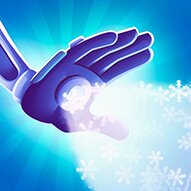 Get ready to destroy all the bad guys with Frozen Sam! The end of the world is close, and you alone can do something about it. Join Sam, the superhero, give him the correct directives. So that he can make them fall into pieces with his freezing superpower. It is only a matter of seconds that the enemies appear on your way. So, are you ready for this rush now?
Are you ready to become a superhero? In this amazing adventure, the end of the world is soon. So, it is not the best day ever, but you can fix this problem. The world is under the attack of the villains. Join Sam, our number one superhero, and destroy the bad guys once and for all. Take control of our superhero and help him aim at the villains to freeze them. Drag the mouse or your finger to observe the rooms. When you see someone coming, click or tap to use your power. When they become frozen statues, you can tear them apart with your gun. They can suddenly appear at your back too! Have your back covered. If you hesitate to shoot the enemies, they destroy you before you do them. Use the earnings that you gain through eliminating an enemy to unlock new skins, weapons, and gloves. Have fun!
If you are looking for another 3D challenge as exciting and amazing as this one, then be sure to check Gang Fall Party by clicking here.
Developer
YAD.Com developed Frozen Sam.
Release Date
September 13, 2021
Features
3D colorful graphics
Easy controls
Entertaining gameplay
Unlocking new items from the in-game shop
Controls
You can use your mouse or the touch controls to play this game.